Big Brother's Trish Balusa apologises after historical tweets resurface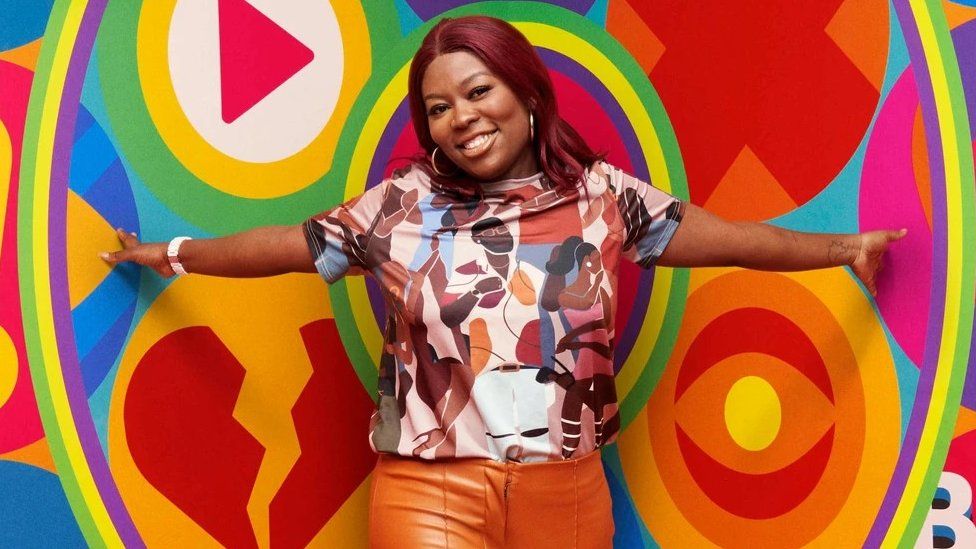 Big Brother producers are investigating how offensive and controversial social posts by housemate Trish Balusa were not flagged before she joined the show.
Most of the tweets in question - which fans have criticised for using racist and homophobic language - were posted more than 10 years ago.
In a statement on X, formerly Twitter, she apologised, saying she was "deeply disappointed, embarrassed and ashamed".
The 33-year-old from Luton was evicted from the ITV2 show on Friday.
It was only after she left that the old posts came to light. It looks like her former account has been deleted, with the apology posted from a new account in her name.
BBC News is choosing not to repeat the language contained in some of the historical posts.
A spokesperson for the production company behind Big Brother, Initial TV, said: "This weekend we have been made aware of concerning historical tweets.
"We are currently looking into why they were not identified by the independent supplier we engage to review the digital footprint of potential housemates as part of our pre-checks."
A planned appearance by Trish on spin-off Big Brother: Late & Live, hosted by AJ Ododu and Will Best, will not go ahead, a production source said. Contestants who have been evicted usually appear on the lively evening debate show.
Trish is said to be being supported as part of the programme's welfare measures for contestants.
In her apology, Trish wrote: "I would like to sincerely apologise for the harmful stereotypes I perpetuated and the pain I have caused to the marginalised communities and groups of people mentioned.
"I have come a very long way since by educating myself and being educated by others on the impact and harm these views cause."
She asked fans to give her grace and "believe that people can change".
There has been a focus on the duty of care for reality contestants in recent years, especially after the deaths of former Love Island contestants Sophie Gradon and Mike Thalassitis after they appeared on the ITV dating show.
ITV's welfare package, published last month, says there is a social media blackout for all Big Brother contestants while they are on the programme, with their family and friends asked not to post on their behalf.
It also says checks of their social media are made by an "independent, specialised service". After a housemate leaves the show, they have a mandatory session with a mental health professional, with more sessions put in place if needed, according to ITV.
Dr Paul Litchfield, who independently reviews ITV's duty of care guidelines, said previously: "The measures applied to safeguard the mental health of contributors to reality TV shows have evolved considerably over the past five years."
Big Brother returned to UK TV on 8 October. The format first appeared on British screens on Channel 4 in 2000, fronted by Davina McCall and spawning a celebrity version, before moving to Channel 5, hosted by Emma Willis. It was scrapped in 2018.
More than 2.5 million people watched the launch show across ITV and ITV2 last month, when the 16 contestants were seen entering the latest Big Brother house in a north London warehouse for the first time.
ITV has confirmed a celebrity version will air once again, next year.