Mounjaro weight loss jab authorised in UK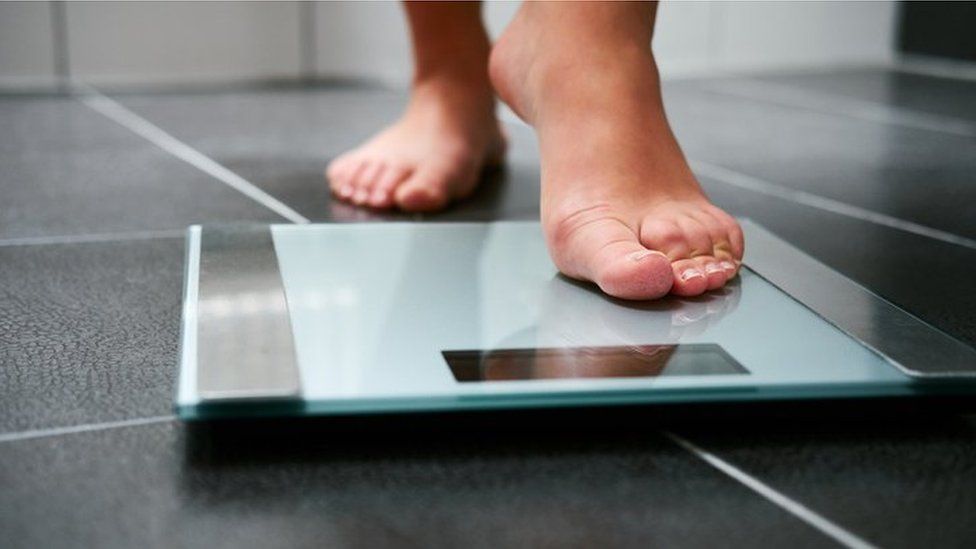 A diabetes medicine dubbed the "King Kong" of weight loss jabs has been approved in the UK for treating obesity.
Mounjaro, or tirzepatide, makes you feel fuller so you eat less.
In trials, people on it have lost a fifth of their body weight and UK regulators now say it is safe and effective enough to be sold and prescribed in the UK.
Unlike a similar jab called Wegovy, it is not recommended on the NHS yet.
Healthcare spending watchdog The National Institute for Health and Care Excellence (NICE) is reviewing its use for obesity and should report back in March 2024.
Both Wegovy and Mounjaro, which work in similar ways, come as pre-filled injection pens that patients can self-administer - giving themselves a dose under the skin of their stomach area or thigh.
They can help people shed significant weight.
But, in studies, users often put weight back on after stopping treatment.
These medicines can have side effects though - the most common are nausea, diarrhoea, vomiting and constipation.
And the jabs - widely used in the US and endorsed by many celebrities - are not a quick fix or a substitute for a healthy diet and exercise.
Experts caution that Mounjaro may affect how well the contraceptive pill works. Women who are on it should consider using extra contraception, such as condoms or switching to a non-oral contraceptive method for four weeks after starting Mounjaro and for four weeks after each increase in dose.
Wegovy shots, which contain a drug called semaglutide, are being offered by some specialist NHS weight-loss management services, as well as some private clinics. There is a plan for GPs to offer it too.
Some High Street chains are prescribing and selling it too, although stocks are limited.
As more doses become available, it could help tens of thousands of patients in England, the NHS says.
In the future, Mounjaro might be added to the list of possible NHS treatments too.
The UK's drugs regulator, the MHRA, says it can be used by adults who are obese or those who are overweight and have weight-related health problems such as high blood pressure.
Health and Social Care Secretary Steve Barclay said: "Although further approvals are needed to use this in the NHS, Mounjaro has the potential to help thousands of people living with obesity and support those suffering from weight-related illnesses - if used alongside diet and physical activity. Tackling obesity could help cut waiting lists and save the NHS billions of pounds."
Related Internet Links
The BBC is not responsible for the content of external sites.