Skulls and flowers on parade at Mexico's Catrinas procession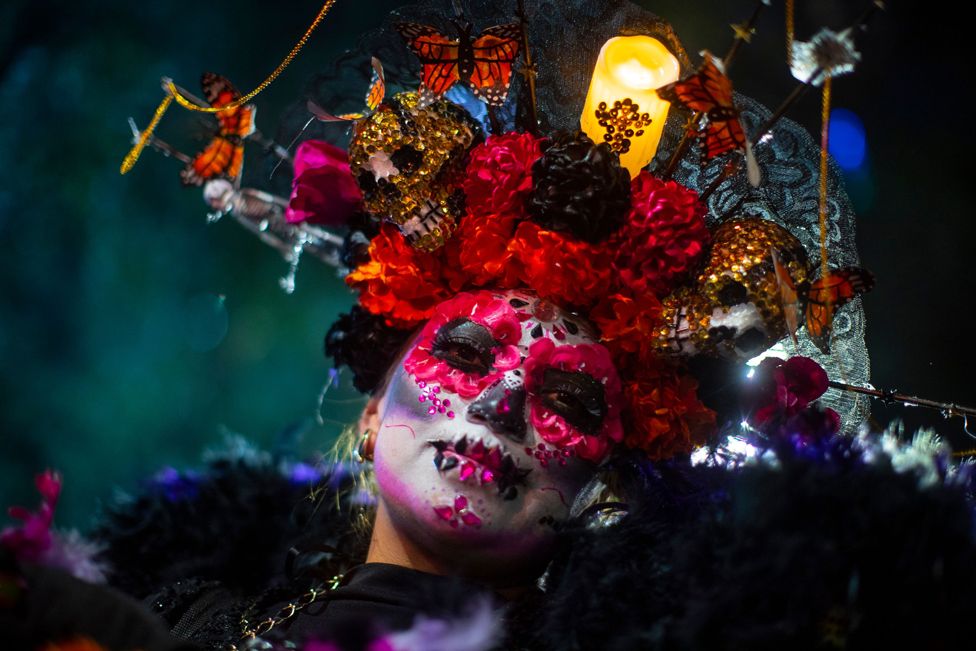 Mexicans have been taking part in the Parade of the Catrinas, a lively procession of skeletons through Mexico City as they prepare to mark the Day of the Dead.
Many participants were made up to look like La Catrina, the name given to an elegant skeletal figure popular in Mexican culture.
Día de los Muertos, or Day of the Dead, is a pre-Hispanic celebration of the cycle of life and death and takes place every year on 1 and 2 November.
It is one of the country's most important annual festivals.
During the colourful festival, big parades are held, and people often paint their faces to look like skulls.
Bright orange and yellow marigold flowers feature prominently as they are believed to attract the souls of the dead with their scent.
Huge papier-mache skeletons have also become a popular part of the processions which precede the Day of the Dead.
The parade proceeds past some of Mexico City's most famous landmarks such as the Angel of Independence.
While most of those in attendance are dressed like skeletons, the occasion is not a sombre one.
The festivities are a way to celebrate and remember friends and family members who have died and passed into the afterlife.
While La Catrina is a female figure, there were also plenty of catrines, La Catrina's male equivalent, on parade.