Damage and disruption: Storm Ciarán in pictures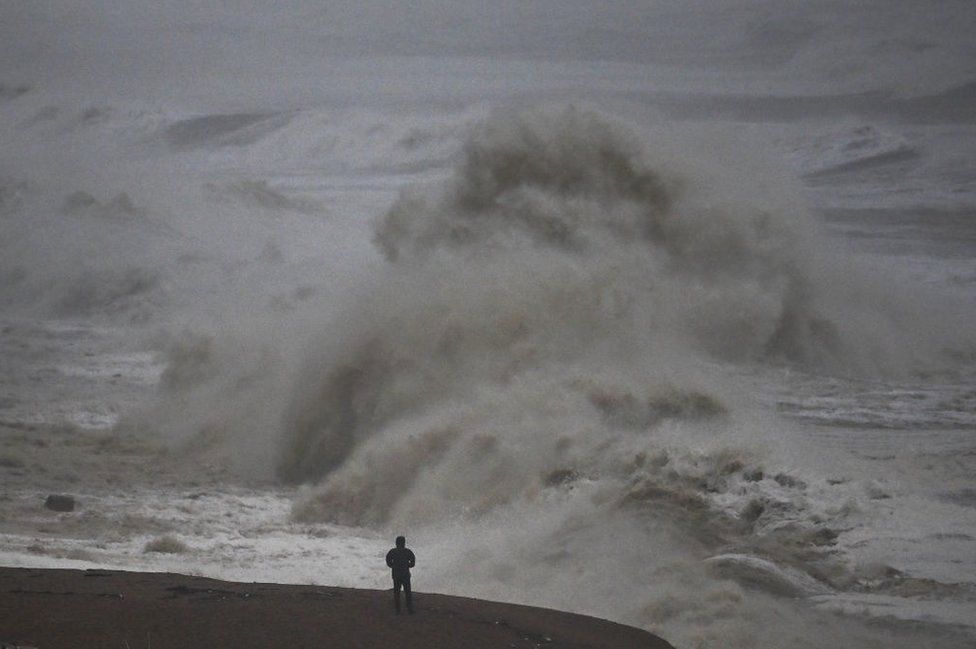 Storm Ciarán has hit the UK, Channel Islands and parts of Europe, bringing strong winds, heavy rain and flooding.
The Met Office issued a yellow warning for wind and rain along the south coast of England.
More than 300 schools are shut across the region, while major incidents have been declared in Hampshire, the Isle of Wight and Jersey.
Dozens of people in Jersey were evacuated to hotels overnight as wind gusts of up to 102mph uprooted trees and damaged homes.
The Grand Hotel in St Helier was damaged, with the side rendering ripped away after winds tore through the island in the early hours of the morning.
The storm is causing severe disruption in the south of England with strong winds and rain affecting many transport routes.
The Environment Agency says flooding is expected in 82 areas, most of which are on the south coast.
The Port of Dover suspended all sailings earlier, sparking long lorry queues - it has since reopened for shipping, but passenger ferries are cancelled.
Coastal regions of north-west France have been battered by gale-force winds of 128mph (207km/h), as Storm Ciarán reached Brittany and Normandy.
Power provider Enedis says 1.2 million people are without electricity, after falling trees brought down power lines and pylons.
Some of the worst damage has been reported in Finistère, in the far north-west, where gusts of 128mph were recorded at Pointe-du-Raz.
The local prefect has barred all traffic from the roads apart from emergency services and other essential transport.
Warnings were activated throughout Spain, except for the Canary Islands, because of heavy rain, gusts of wind of up to 68mph, with a greater incidence in the Galicia region, which is on the red alert.
All photos subject to copyright