Charles makes first King's Speech as he opens Parliament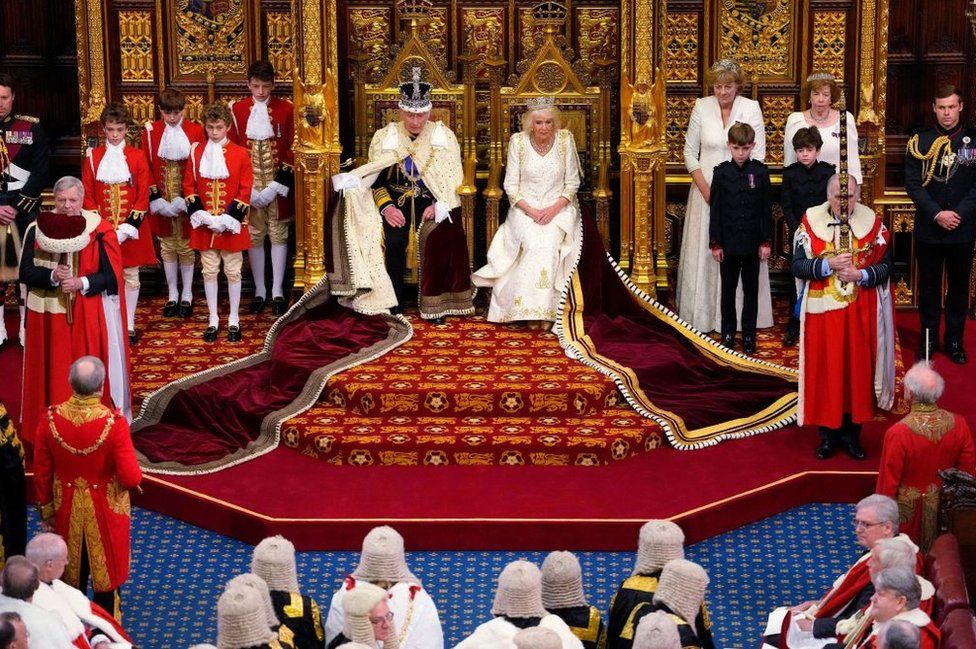 King Charles III delivered his first King's Speech since becoming monarch.
He travelled through the streets of London in the Diamond Jubilee State Coach in a ceremony going back centuries.
The carriage made its way from Buckingham Palace along Whitehall to Westminster.
Protesters held up placards as the King and Queen made their way to Parliament.
On arrival, the King used the Sovereign's Entrance, reserved for the monarch, before making his way to the throne in the House of Lords.
Queen Camilla was at the King's side in the dress she wore at the coronation.
In the Robing Room the King put on the crown and his ceremonial robes, ahead of making his speech in the room next door - the chamber of the House of Lords.
MPs were summoned to the Lords by Black Rod, an official position currently held by Sarah Clarke.
The Commons Speaker, Sir Lindsay Hoyle, led the procession into the House of Commons.
Prime Minister Rishi Sunak and Labour Party leader Sir Keir Starmer were among MPs who entered through the Members' Lobby.
Before entering the House of Commons, Black Rod had the door shut in her face, symbolising the chamber's independence from the monarchy.
The King wore the Imperial State Crown and the Robe of State. Queen Camilla wore the George IV State Diadem as she accompanied her husband through the Royal Gallery to the Sovereign Throne.
King Charles began with a tribute to the "legacy of service and devotion to this country" set by his mother Queen Elizabeth II.
MPs, peers and other dignitaries gathered in the House of Lords and listened in silence as the King set out the government's current priorities which included investment in transport, laws to prevent children smoking, and tougher sentences for serious offenders.
The last King to oversee the State Opening of Parliament was George VI in 1950.
The King and Queen Consort made their way back to Buckingham Palace following the speech.
A fanfare played as they got back in the Diamond Jubilee State Coach to leave Parliament.
All photos subject to copyright