Suella Braverman row: Who's scared of Rishi Sunak?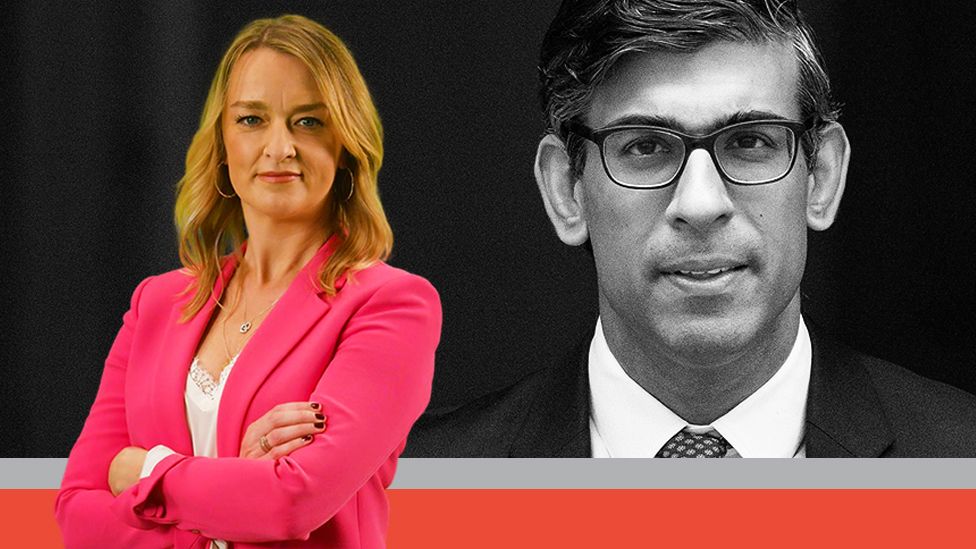 You won't find a politician saying it loud, but fear matters.
Running a government or a political party is not a business where the aim is to hold hands and sing Kumbaya.
The task to is win power. To hold on to it. To get things done. And then win again.
Common beliefs, loyalty, and a desire to serve can bind politicians together.
But fear is one of the currencies prime ministers can require to succeed.
As one senior Conservative told me: "People need to be scared of Number 10."
That force can stop ministers doing daft things, or make them do things they don't want to, or just keep them in line.
Ultimately, it is the fear of losing their precious jobs, their red box, their ministerial limo, their standing, their reputation, that matters in the fraught day to day of government.
Rishi Sunak is never going to cosplay some kind of political hard man.
But he faces a political danger right now that every moment longer he keeps his headline-happy home secretary on, that fear falls away.
The prime minister is known not just for wanting to find the facts, but wanting to study them before making decisions.
In political terms both of those situations dragged on for aeons before the two ministers were shown the door.
But on this occasion there seems little need for a long-winded process or internal investigations into what happened.
On this week's show are Defence Secretary Grant Shapps and Labour's Shadow Home Secretary Yvette Cooper.
Watch live on BBC One and iPlayer from 09:00 BST on Sunday
Follow latest updates in text and video on the BBC News website from 08:00
Home Secretary Suella Braverman and her team were told to tone down her language in an article for The Times. They refused to make all the changes.
Either Rishi Sunak reckons that defiance merits a P45 or not.
But as I write Downing Street is in the uncomfortable position of having disowned the article, distancing themselves from the home secretary, but then delayed making a further decision.
Now they are stuck with almost impossible choreography.
"I think it all depends on this weekend," says one senior MP.
Mrs Braverman's language related to the policing of protests and Remembrance events.
There is a logic therefore in Number 10 getting through the next 48 hours before making a public decision on if she should stay or go.
If she had been fired already, and there was trouble on the streets - and there have been clashes between police and counter-protesters - Mrs Braverman would have been able to say a giant "I told you so".
But if the weekend's events pass relatively smoothly, then some in government are convinced that on Monday she is out.
"I'd put your money on it," one cabinet source told me, suggesting confidently the plan to fire her then has already been hatched, "the position is pretty entrenched".
Yet, other sources in government suggest Rishi Sunak's natural caution will see him wait for another big event to pass, Wednesday's Supreme Court ruling on the government's plan to send migrants to Rwanda.
Suella Braverman has been the biggest champion of this proposal all along.
If the government wins, and can get on with it, that's a victory for her as well as the PM.
If she is sacked then - after a positive verdict - there is less of a row to have, the message could be: "Thank you for your marvellous work, now time for a fresh start."
But if the government loses, and then she is shown the door, she has more ammunition to make things awkward, more likely to try to push the Tory Party further on immigration, reinvigorating calls to leave the European Convention on Human Rights, which is a source of argument in Conservative ranks.
Several ministers reckon therefore Mr Sunak will wait until that's clear. "Next Wednesday is a big day that is finally arriving and I'd be astonished if the PM did anything ahead of that," said one.
But there is always a reason politicians can find to wait.
Does Number 10 really want to change its cast list a few days before the chancellor's big Autumn Statement the week after?
Does the PM really want to carry out a major reshuffle, perhaps the last before a general election campaign, right now?
If politicians want to delay, there is, always a reason to wait.
The pause while Number 10 has been working out what to do has displayed the other reason for hanging on to Mrs Braverman.
The dangling prospect of sacking the home secretary has prompted screams from the Conservative right, and newspaper headlines about the revenge which would surely follow.
Trying to keep the right happy was the reason Rishi Sunak hired Suella Braverman in the first place.
Remember, she had previously been ditched by Liz Truss when found to have broken ministers' rules.
It was obvious from the very start that she would be highly likely to grab headlines and be willing to cause political trouble.
When he was trying to get to Number 10 - after the Truss implosion - Mrs Braverman's support was a valuable totem for Team Sunak from the right wing of the party.
Since then, while the PM and the home secretary differ hugely in how they use language, there isn't that much variation between the two of them on ideas.
And as far as some of Suella Braverman's backers are concerned she has done exactly what she was hired to do.
That is, talk to the public with conviction about the government's desire to get on top of immigration, and, in the words of one of her allies, "convince people that we mean it".
But there is no question Number 10 is, in the words of one cabinet minister "deeply hacked off" at her recent behaviour.
It's not just the fuss over her newspaper article.
"It's become the Suella show," a minister says. "It's cumulative," another claims.
And many Sunak loyalists don't believe the threat Mrs Braverman would present if she is sacked in a giant huff is as significant as her allies, and some headlines, suggest.
"There is no army that will rise up behind her," suggests one cabinet minister.
Another member of the government says "her support in Parliament is very, very over stated," take away the red box and the car, and she will look like what she was, "an outlier from the start".
But even a small group of politicians determined to make a racket can do so.
If Mrs Braverman is sacked there will be a backlash of a sort, in parts of the party, and parts of the press.
There are warnings, however credible, that a small number of other members of the government might leave alongside her if she is fired or walks.
Yet, there seems a growing sense in government that there is less and less to be gained from trying to trying to keep every MP happy.
And while Mrs Braverman's backers say time and again that she represents many of the public, she alienates others.
One pollster suggests Mrs Braverman's style could "peel back some Reform UK's voters, but the combination of alienating more Cameronite Tories and a total sense of government chaos and disunity far outweighs" that appeal.
The political question for Rishi Sunak is not whether the perfect process was followed in agreeing a cabinet minister's newspaper article.
But whether he is willing to keep using up political energy to try to preserve the fraying edges of the Conservative Party.
Mr Sunak is grappling with an almost impossible choreography, some Conservatives reckon the party is an almost impossible coalition now too.
However the prime minister decides to manage his way out of this tangle it has already dented Downing Street's authority.
One minister told me: "If you don't think that actions have consequences and you can say what you like, do what you want, it's harmful for Number 10."
There are logical reasons why Mr Sunak has not yet made a decision with the protests this weekend, and the court ruling on Wednesday.
There are political reasons why it's not a slam dunk, because there is a risk, although perhaps not as great as often billed, of retribution from the right of the Conservative Party that would be hard to manage, and indeed, to predict.
But the bigger reality for Downing Street is perhaps that Suella Braverman acted as she did because she didn't fear any consequences.
If members of any government ignore what the Number 10 machine says, but they get away with it, even for a few days, the prime minister's authority erodes, discipline disappears.
"Nobody is frightened of Downing Street any more," one senior Tory told me.
An administration that can't put the frighteners on is an administration in trouble.