China's 'communist spies' in the dock in Taiwan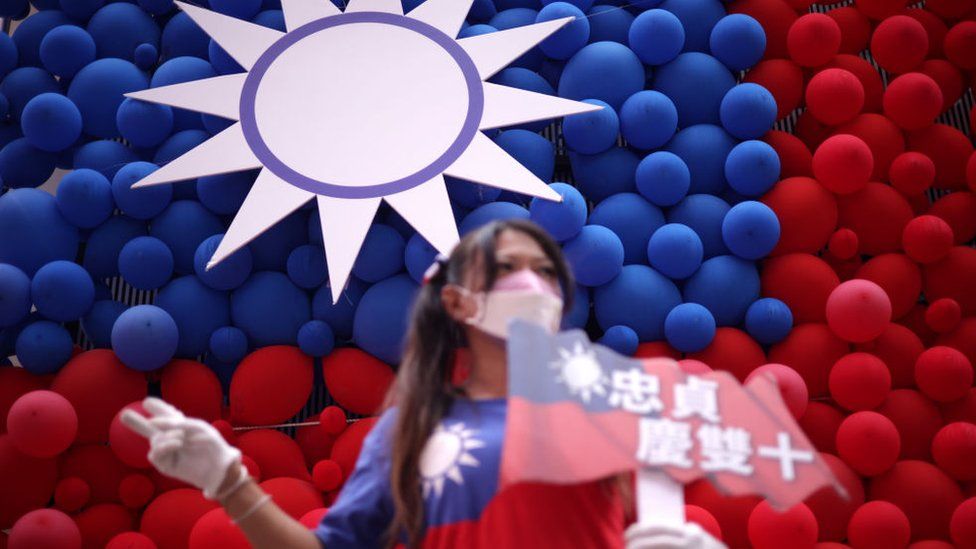 Taiwan is taking aim at China's alleged "communist spies" ahead of a crucial presidential election, where the island's relationship with Beijing will be on the ballot.
Taiwan and China have been spying on each other since 1949, when Chinese nationalists set up a separate government in Taipei opposing Mao Zedong's communist China.
In the last 10 months, Taiwanese authorities have handed down a steady stream of charges and convictions - proof, they say, that Beijing's espionage strategy has intensified and expanded beyond elite military circles. Retired air force colonel Liu Sheng-shu was sentenced to 20 years in prison in October for running a military spy ring for Beijing.
At least 16 people have been accused of spying for China since the start of the year, compared with the 44 espionage cases registered by Taiwan's Ministry of Justice Investigation Bureau between 2013 and 2019.
This comes as China's claims over the self-governed island have turned more threatening, with increased military and political pressure. Beijing has not ruled out the possible use of force to take the island, even as US support for Taiwan has grown more vocal.
Reports suggest that Beijing has been expanding its global spy efforts, particularly against the US. And Washington too has been increasing its intelligence gathering on China.
Taiwan is an easy target for Chinese spies, says Grant Newsham, a retired US Marine Corps colonel who has served for decades in the Indo-Pacific.
Proximity to China and the fact that most Taiwanese speak the Chinese language helps, but the island is also "not very strict" about punishing espionage, he adds. "This has an effect on willingness to spy for China, if you think the 'downside risks' aren't so serious."
Mr Newsham also says Taiwan did not have a robust system for restricting access to classified information until recently.
"If you're not controlling sensitive and secret information very well… You should expect any competent foreign intelligence service to get access to it. That's played out in Taiwan for a long, long time."
Experts and Taiwanese officials say espionage is one of many ways in which China has tried to interfere or exert influence on the island.
Beijing has long conducted a "war without gunfire" against Taiwan, Tsai Ming-Yen, the director-general of Taiwan's National Security Bureau, said last week.
China sends ever-rising numbers of fighter jets into Taiwan's air defence zone, has rebuked its leaders for overseas visits that bordered on diplomacy, and banned imports of Taiwanese pineapples, mangoes and certain types of fish.
Many expect more of this as the election in January draws closer. Mr Tsai has also accused the Chinese government of attempting to meddle in the election through cyberattacks.
January's vote is significant as it pits the incumbent Democratic Progressive's Party (DPP), which considers Taiwan to be independent and sovereign, against at least three opposition candidates who advocate maintaining the status quo by restarting dialogue with Beijing. And a win for the DPP's candidate and current vice-president William Lai, who Beijing has said "clings stubbornly to the separatist position", would pose a challenge for China's unification plans.
Taiwanese spy catchers appear to be paying the closest attention to the military. Most of the alleged spies are connected to it, or are accused of attempting to recruit soldiers.
In July, a diabolo instructor, Lu Chi-hsien, and four others were detained for allegedly setting up a spy network. Mr Lu is accused of recruiting hard-up soldiers into the network by focusing on pawnshops, money lenders and loan-shark operations near army bases. A sixth suspect, Kuo Po-ting, is the younger brother of Taiwanese singer and celebrity Kuo Shu-yao.
Experts believe investigations into Taiwan's businessmen would lead to just as many cases. A Taiwanese businessman and his son were charged in July for recruiting two soldiers to help them collect confidential information.
The fear is that China's "spies" do not just steal secrets but also help shape public opinion to garner support for China.
Half of China's strategy in Taiwan involves "media warfare" to psychologically fracture and demoralise Taiwan, says Kerry Gershaneck, a visiting scholar at Taipei's National Chengchi University. He points to the lead-up to the last election in 2020, when Beijing was found to have paid Taiwanese media for positive coverage of the mainland.
This time, the DPP's battle plan in the information war involves making the spying allegations public, says Lev Nachman, a political scientist at National Chengchi University.
This is "good public relations" for the party, Prof Nachman adds. But he believes Chinese infiltration efforts will have little sway, and points to President Tsai Ing-wen's emphatic win in 2020 despite concerns over Chinese interference.
"These cases are nothing new. They are part of the daily lives of ordinary Taiwanese and I believe the voters are much more aware of such tactics than we give them credit for."
The DPP had passed sweeping anti-espionage laws ahead of the 2020 election, after self-confessed Chinese spy Wang Liqiang told Australian media that he had targeted Taiwan and Hong Kong on behalf of a Beijing-directed foreign interference ring. Chinese authorities dismissed his claims.
For Prof Nachman, that is yet more evidence of China's "supposed infiltration tactics" failing to work.
But others, like Wen-Ti Sung from the Australian National University, think the public call-outs are a double-edged sword.
"It may potentially alert and dissuade other potential partners and friends from future co-operation with Taiwan. Yet others might think, why couldn't Taiwan prevent these spies from infiltrating the system or from being recruited by adversaries in the first place."