Eric Adams: FBI seize NYC mayor's phones in fundraising investigation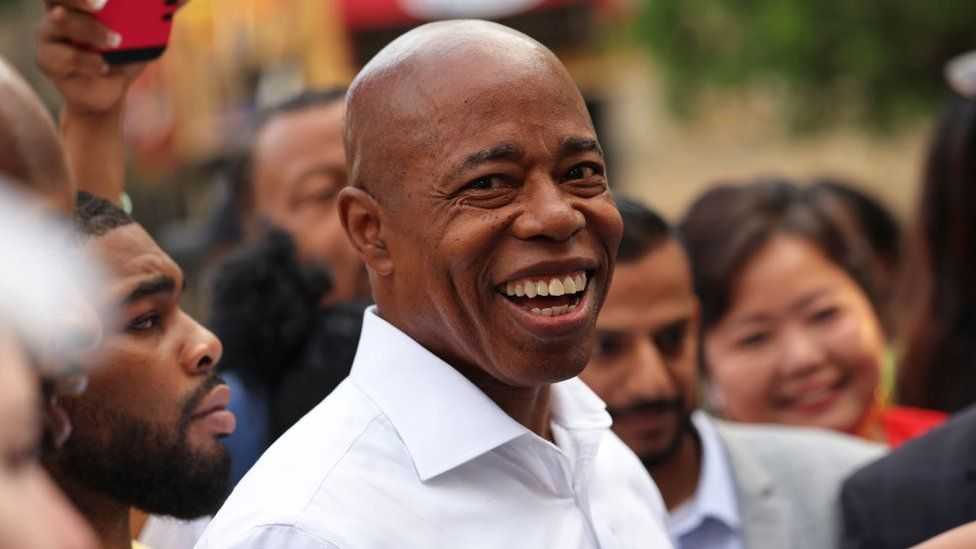 The FBI has seized the phones of New York City Mayor Eric Adams in an apparent escalation of an investigation into campaign financing.
His campaign said electronic devices, believed to be two iPhones and an iPad, were taken by agents on Monday night.
The search was first reported by the New York Times, which said the probe centred on whether the campaign had conspired with the Turkish government to receive illegal foreign donations.
Mr Adams, 63, denies wrongdoing.
On Friday, Boyd Johnson, a lawyer for the mayor's campaign organisation, said Mr Adams had been approached by the FBI after an event.
"[He] immediately complied with the FBI's request and provided them with electronic devices," he told the BBC's US partner CBS. "The mayor has not been accused of any wrongdoing and continues to co-operate with the investigation."
In his own statement, Mr Adams, a Democrat and former police captain, said: "As a former member of law enforcement, I expect all members of my staff to follow the law and fully co-operate with any sort of investigation, and I will continue to do exactly that."
"I have nothing to hide," he added.
The probe became known last week after an early morning raid at the home of Mr Adams' top campaign fundraiser.
The FBI searched the Brooklyn residence of Brianna Suggs, 25, a lobbyist and former Adams aide. Agents are said to have seized two laptops, three iPhones and a folder labelled "Eric Adams".
Teams of agents also searched other homes and businesses in New York.
But the seizure of Mr Adams' electronics on Monday night appears to be the first time the investigation has involved him directly.
Investigators also want to know if the Adams campaign kicked back any benefits to the country or these individuals in exchange for donations.
Foreign nationals are barred from making contributions to US election campaigns.
Law enforcement officials familiar with the matter told CNN that the alleged scheme being investigated by the FBI would have allowed money coming from foreign entities to be masked as donations from American citizens.